Buttery garlic bread. When we just want regular garlic bread (no cheese) this is my "go to" recipe. Learn how to make the best garlic bread with crispy edges and a soft and buttery center. Simple to make and you can prepare it in advance.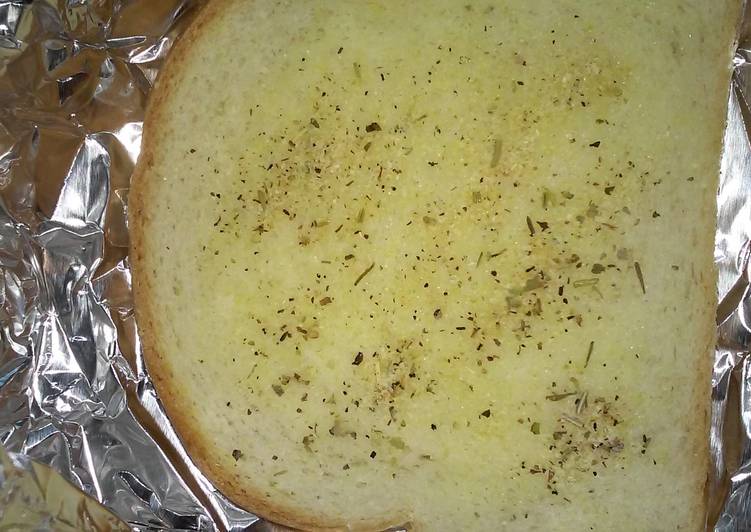 Charlie Andrews Demonstrates on how to make his delicious Buttery Garlic bread!!!! I love garlic bread, but rarely do I keep a loaf of fresh french bread on hand to whip up on a whim. It was buttery and oh, so garlicky, and it had the most perfect touch of crunch and brown. You can have Buttery garlic bread using 7 ingredients and 10 steps. Here is how you achieve that.
Ingredients of Buttery garlic bread
Prepare 4 slice of bread.
Prepare 1/2 tsp of garlic powder.
You need 1/8 tsp of italian seasonin.
It's 1/8 tsp of salt.
It's 1/8 tsp of ground black pepper.
It's 1 of butter.
It's 1/8 tsp of onion salt.
Here's a golden-brown crusty loaf that will round out all kinds of dinners in just minutes! Talena Keeler - Siloam Springs, Arkansas. Love garlic bread but not the carbs? You'll love this buttery keto garlic bread - with a buttery garlic topping.
Buttery garlic bread instructions
Get a piece of foil.
Preheat oven to 350°F.
Place one slice of bread on foil.
Butter the bread.
Fold foil around bread leaving handles.
Bake for 4-7 minutes until butter is melted and bread to the texture you like.
Mix rest of ingredients in a small bowl while waiting or prepare the next piece- you can put more than one in the oven at once just in separate foil.
Take bread out when ready and season it.
Keep in foil until ready to serve to help keep it warm- if desired put back in oven for 1-2 minutes or until warmed again.
Store away any leftover garlic seasoning.
Perfect for a bbq and the family to share without ruining your keto diet. Serve Buttery Garlic Bread immediately with Beef Stew. Warm bread out of the oven may smell amazing but it's always best for bread to rest to allow the moisture to settle into the dough. Learn how to make Buttery Garlic Bread. Made with spiced garlic butter made from scratch.